­­There is a general lack of understanding of blockchain as a technology. In fact, a survey found that almost 62% of US adults assume that "blockchain is the same as cryptocurrency,". 48% said that "blockchain is the same as Bitcoin. The better-known use cases are all related to Banks of the finance world.
Correspondingly, in Human Capital Management, most would struggle to understand how this technology would be applicable and its value. For HR leaders to take an interest, the arguments must be clearer than using words like immutable, distributed, transparent, and auditable: it must very obviously solve an existing business problem that cannot be resolved with the existing mainstream technology.
The Issue: Proof of educational attainment and accurate work history
"A fake degree is just the click of a mouse and a cheque away". Audrey Gilan, The Guardian, 2004
As you can see from this quote dating back to 2004, the advent of Diploma Mills is not a recent development. One research estimates that "there are currently 2 million fake degree certificates in circulation in the United States alone and 300 unauthorized universities operating". Although it is essential to perform an accurate evaluation of educational suitability for particular employment, organizations struggle to perform a thorough and diligent validation of academic credentials. In an era of The Great Resignation, where everyone is understaffed and under great pressure to onboard new employees ASAP, many dishonest applicants get away with presenting fake diplomas.
Another challenge for HR partners is to validate the accuracy of the work history presented in a candidate's Curriculum Vitae. Gartner maintains that in a survey, 58% of employers reported having identified a lie on a resume. The same resource challenge applies to the validation of work history as for fact-checking educational achievement. How do we solve that problem?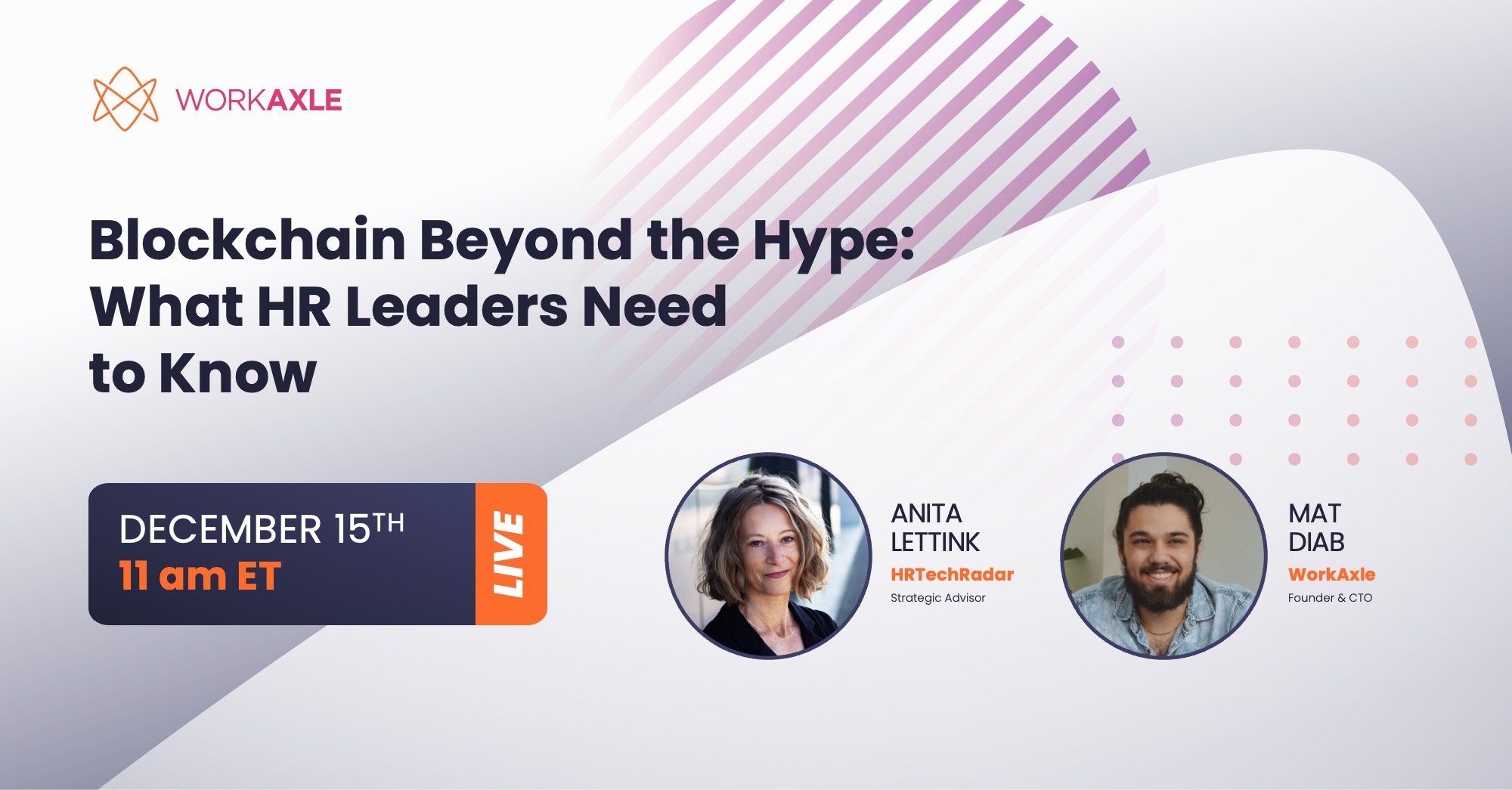 Blockchain used for Talent Acquisition as the Trojan horse or the first building block
Imagine a future where your degrees, certifications, and work history are all saved on a blockchain. The information is uploaded by your university and employers to a common repository. This is where the advantages of blockchain become key in providing a superior solution to the traditional database as we know it. Blockchain is:
Immutable: Once it's been saved, it can never be changed or deleted
Decentralized: Unlike databases, it is distributed and thus much more secure
Imagine the time saved by recruiters in performing these tasks and the elimination of fraudulent applicants. This future may not be so far away. Institutions of higher learning are incented to find ways to drive out these diploma mills, which devalues their own accreditations. MIT led the charge in 2018 by founding the Digital Credentials Consortium, whose mission is to "create a trusted, distributed, and shared infrastructure that will become the standard for issuing, storing, displaying, and verifying academic credentials digitally". With 12 founding members from 7 different countries (including Harvard), they have been leading the charge to set the new standard for validation of academic achievement.
Surely, we have ways to go before the utopia described above becomes mainstream. However, when the problem becomes serious enough, the forces of the market always find a way to accelerate the adoption of a solution.
Blockchain first and then what?
Moving towards eliminating fraudulent academic credentials and work history may be the most pressing issue that can be solved using a standard on blockchain in the Human Capital Management and HRIS space. However, there are many other use cases to be considered. Once blockchain becomes better understood and less feared, there are several other use cases which can be explored in other areas to eventually be omnipresent in your HRIS:
Scheduling Compliance: In many industries, workers must maintain valid credentials to be scheduled for a shift. In regulated industries such as Oil and Gas, Utilities, and Mining, there are great risks in assigning work to individuals with non-existent or outdated credentials and severe penalties for doing so. Leveraging digital certificates issued by the institutions in real-time when scheduling employees is a massive improvement on the current state.
Site Security and Incident Auditability: Combining Internet of Things like beacons to ensure that the right wearable device (smartphone) is on a work site combined with facial recognition ensures that the right person scheduled for the shift is present physically. If an incident happens and everything is saved on a blockchain, you can easily prove that the right person with the right credentials performed the work.
These are just two innumerable use cases where blockchain provides a superior technological solution.
Conclusion
An article in Fortunly states that by the end of 2024, it's expected that corporations will spend $20 billion per year on blockchain technical services. What is called Web3 is coming faster than we know. Every organization should be having a discussion on how they can leverage blockchain. Chief People Officers should be evaluating how they can start with a few use cases to gain knowledge on the value of blockchain, understanding that the change is inevitable and will likely be driven by the need to eradicate dishonest educational credentials and work history.