HEAR YE, HEAR YE, HEAR YE! NEWS OF THE NEW WORKPLACE REVOLUTION HAS COME TO THEE!
YEARS OF IN-DEPTH RESEARCH AND CAREFUL SCIENTIFIC SCRUTINY HAVE MADE KNOWN TO US THIS REVELATION OF THE CENTURY:  EMPLOYEES WHO ARE HAPPY AND ENGAGED AT WORK PERFORM BETTER THAN THOSE WHO ARE NOT!
I'm sorry I needed to scream to get your attention there, sometimes I just love hearing the sound of my own voice…
In any case, let's bring it back down to earth for a second. If you're not convinced of the relationship between  business performance, employee engagement and satisfaction here are some statistics:
According to a 2002 study published in the Journal of Applied Psychology[1], employee satisfaction and engagement are related to business outcomes – customer satisfaction, productivity, profit, employee turnover, and accidents – in a significant way.
Similarly, a 2012 Gallup study[2] (based on 263 research studies across 192 organizations in 49 industries and 34 countries) reported a significant connection between employee engagement and these 9 performance outcomes:
Customer ratings
Profitability
Productivity
Turnover (for high-turnover and low-turnover organizations)
Safety incidents
Shrinkage (theft)
Absenteeism
Patient safety incidents
Quality (defects)
A 2017 Harvard Business Review study based on an analysis of 250 organizations (including some Fortune 100 companies, and some ranked on the 'best workplaces' lists) shows significant increases in key business performance areas (Morgan, 2017), as shown in this graph:
More than 4X average profit, really? Can you believe that? I'm almost as astounded as you are right now.
What is the connection?
The logic is fairly straightforward. Employees that are less happy and less engaged tend to:
Show up less (Increased rates of absenteeism)
Show up late (Increased levels of tardiness)
Produce less (Lower productivity)
Work less well (Quality)
Treat customers poorly (Decreased rates of customer satisfaction)
Quit their jobs more frequently (Employee turnover)
So, if investing in employees has such a dramatic impact on business success, most companies have high rates of employee satisfaction and engagement, right?
Apparently not, according to Gallup's 2017 'State of the American Workplace' study which reports that a whopping 66% of American workers are not engaged at their job[3]. And it's even worse outside of North America[4].
How can this be explained?
The results seem to suggest that many companies either neglect employee engagement and satisfaction, or don't understand it at all. Either way, the results are rather depressing.
An article published in the Harvard Business Review[5] suggests a third option – the companies that do invest in employee engagement and satisfaction do so with a view towards the short-term. In other words, the programs and tools they implement are more like band-aid solutions; they help for a short period of time but must be constantly replaced after the temporary 'benefit' wears off, effectively creating a cycle of short highs and longer lows.
Unfortunately, this strategy may be even worse than having no engagement program at all, because it suggests to the employees that the employer is not truly committed to their success at all; rather, the measures are just a means to get them to work harder.
The danger is that the more this happens, the more your employees will start to view you as this guy. Trust me, nobody wants to be THAT guy.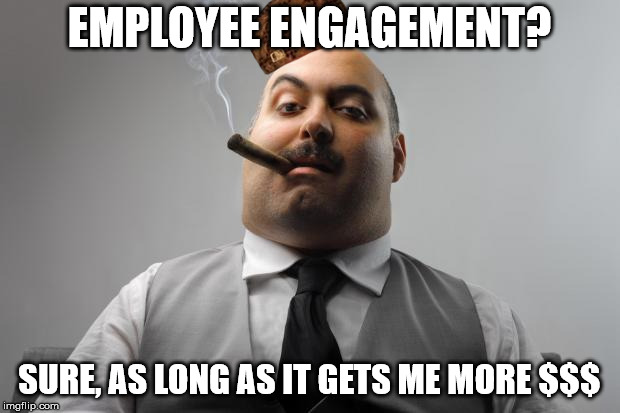 So, if you've been reading carefully, you've probably noticed 3 main points in this post:
1) Employee engagement and satisfaction impact business success significantly
2) Companies that invest in such measures routinely outperform those that don't
3) These measures should be designed in such a way as to affect the long-term success of your employees
With that being said, I will now use my telepathic powers to predict what you will be thinking next.
…
Did you ask yourself at least one of the following questions?
How will I know if the measures I implement are effective?
If I was right, please like this post! If not, feel free to comment below and let us know what you were actually thinking.
---
References
[1] Harter, James K., et al. "Business-Unit-Level relationship between employee satisfaction, employee engagement, and business outcomes: A meta-Analysis." Journal of Applied Psychology, vol. 87, no. 2, Apr. 2002, pp. 268–279., doi:10.1037//0021-9010.87.2.268.
[2] Sorenson, Susan. "How Employee Engagement Drives Growth." Gallup, Gallup, 20 June 2013, news.gallup.com/businessjournal/163130/employee-engagement-drives-growth.aspx.
[3] State of American Workforce. Gallup, 2017, State of American Workforce, news.gallup.com/reports/199961/7.aspx.
[4] Crabtree, Steve. "Worldwide, 13% of Employees Are Engaged at Work." Gallup, Gallup, 8 Oct. 2013, news.gallup.com/poll/165269/worldwide-employees-engaged-work.aspx.
[5] Morgan, Jacob . "Why the Millions We Spend on Employee Engagement Buy Us So Little." Harvard Business Review, 10 Mar. 2017, hbr.org/2017/03/why-the-millions-we-spend-on-employee-engagement-buy-us-so-little?referral=03759&cm_vc=rr_item_page.bottom.