Those of us who have been working in the HR solutions space for decades tend to lose perspective on how much jargon we use in business conversations that is confusing for the average buyer. We use acronyms and words with colleagues in our industry and forget that prospects and customers might require translation. With HR Tech 2022 just around the corner, I thought it would be timely to provide some clarification on the three main pillars of the technologies.
Human Resources Information Systems (HRIS) or Human Capital Management (HCM) Platforms
An HRIS or HCM platform can be classified into two principal functions:
Talent Management
Transactional HR
Talent Management focuses on attracting, developing, and retaining employees. The main functions of such a solution are:
Talent acquisition
Onboarding
Learning management
Career planning
Succession planning
Performance management
Compensation administration
Transactional HR provides the nuts and bolts to be able to hire an employee in a position and manage their life events. The main functions of this classification are:
Master data
Organizational management
Life events
In some geographies, there is also a need for benefits administration. Some solutions provide such functionality as part of their transactional HR solution, but in many cases, a specialized vendor is required and needs to be interfaced with the HRIS.
Workforce Management (WFM)
The term Workforce Management can lead to confusion as the meaning on the surface is quite broad: managing the workforce. In layman's terms, WFM is everything related to employee scheduling, time collection, and management of leaves. The main functions of such a solution are:
Demand forecasting and labour optimization
Scheduling and rostering
Time and attendance
Leave and absence management
Over time, some WFM vendors have broadened the offering by adding additional functions to their software:
Fatigue management
Recognition and rewards
Task management
Surveys
Employee engagement


Payroll
A payroll system should be able to collect all the necessary payroll inputs to calculate gross to net and produce reports for compliance, payments, and payroll postings. A payroll system should:
Collect master data and time data for gross to net calculation
Process payroll
Generate post payroll reports and payments
Produce year-end fillings
Please refer to Anita Lettink's new book "How to Select your Next Payroll – The Ultimate Guide" for more information.
How it all hangs together
The diagram below is a representation of the three pillars as defined above: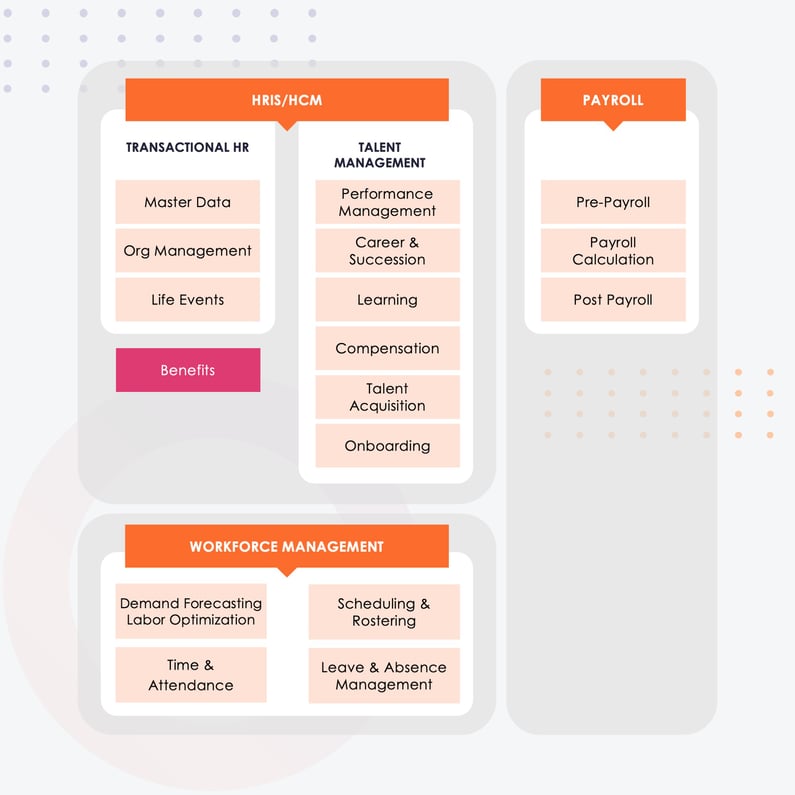 All-in-one or best-of-breed?
The above definitions provide a very high-level starting point if you are considering changing all or some of your current HR functional landscape. Some vendors defined by Gartner in their WFM Market Guide for 2022 as HCM Vendors or Business Application vendors may provide HCM, WFM and payroll all-in-one. There are pros and cons to dealing with a singular vendor.
The main pro is that you deal with one vendor and one technology which may be natively integrated.
The con: The depth of functionality may not be there to have a high-level of fit with your requirements for both WFM and payroll, and thus, you may not get the optimized automation and efficiency you sought. For a better fit due to your level of complexity, you may be better served by selecting a specialized vendor with a greater depth of functionality.
Conclusion
There is no right or wrong here when it comes to selecting an All-in-one or Best-of-breed. You need to set your business objectives and understand what the vendor capacities are in the market. For better results, you can hire a firm specializing in providing a clear digital transformation roadmap so that you can maximize your value.