In their 2020 Market Guide for Workforce Management Applications1, Gartner classified vendors who provide WFM solutions in five different categories:
WFM Vendor
HCM Vendor
Business Application (Bizz App) Vendor
Function Specialist Vendor
Industry Specialist Vendor
For this blog post, I will focus on comparing Workforce Management (WFM) vendors and Human Capital Management (HCM) vendors and how Gartner evaluates their WFM capabilities. In short, Gartner posits that WFM vendors are much deeper in overall WFM suite functionality versus HCM vendors who may have lightweight WFM functionality and proportionally less R&D investment in WFM.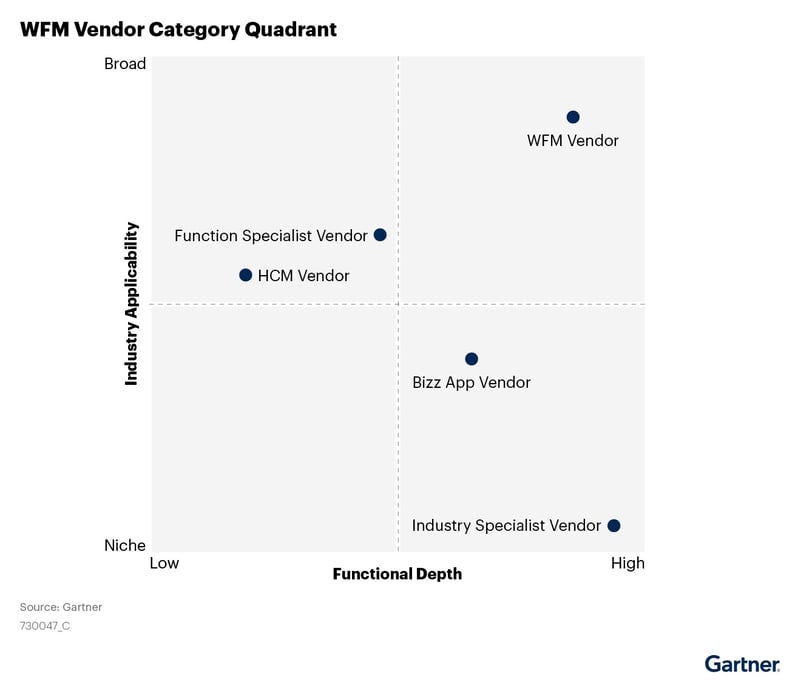 Players such as Oracle and SAP can be classified as HCM vendors who offer workforce management and payroll options as part of a single platform sale. Let's take a deeper dive into their WFM functionality:
Scheduling in SAP ERP HCM and SAP SuccessFactors
SAP ERP HCM as the on-premise solution, offers a fairly complete, albeit very technical option, for time entry and time evaluation. The only native scheduling solution that is part of the HCM module is called Shift Scheduling. This module has never met with much success in terms of customer adoption due to its lack of functionality. It was presented as a shell whereby customers needed a significant amount of development to become usable.
In 2013 or thereabout, when SAP acquired SuccessFactors, they chose to partner with Workforce Software (WFS) for the more complex WFM use cases. At the time, WFS did not have advanced scheduling and chose to acquire WorkPlace Systems in 2016, a scheduling solution for retail and hospitality founded in 1986. This scheduling solution that's now more than 35 years old. (Read about the consequences of high technical debt here)
In addition to the partnership, SAP continues to develop its native Time and Attendance capabilities which can meet the requirements of organizations with simpler needs.
SAP offers few good options to its customers when it comes to scheduling. Whether for on-premise customers or for more complex scenarios, the best alternative is a combination of software developed by different organizations. This option comes with different data models, which have been around since 2011 and thus, are complex and expensive to implement, and the UI and user experience have seen better days.
Scheduling in Oracle Fusion or Oracle Cloud
In the early 2000s, Oracle went on an acquisition binge and picked up PeopleSoft, JD Edwards, Taleo and Siebel. In 2011, Oracle Fusion applications were launched at OpenWorld. Much like SAP, Oracle has developed a set of WFM functionality mostly focused on Time and Attendance. In fact, even on their corporate website, Oracle only lists Absence Management, Time and Labor, and Workforce Health and Safety under Workforce Management - No mention of scheduling.
However, in 2018, Oracle announced their partnership with Workforce Software for scheduling. Here again, the same arguments about the partnership with SAP hold true.
Conclusion
If you are an SAP or an Oracle customer and have scheduling needs, your options are most likely a third-party solution partnered with your HCM vendor. Understanding that this is the case and the solution has been around for a long time in tech years (more than 30 years), you should look at point solutions for your scheduling needs. The alternatives can be more modern, lower TCO, and provide a superior UI and employee experience.
---
1 Gartner, "Market Guide for Workforce Management Applications", Sam Grinter, Ron Hanscome, Kelsie Marian, Ranadip Chandra, 26 August 2020.
Looking for a Best-of-Breed Scheduling solution?
WorkAxle's WFM suite can be implemented 5x faster than our leading competitor, with little to no ramp-up time.